Article sur le blog de Agora Gallery, illustré du tableau « La Dame Créole » de Silvana di Martino.
artistic presentation in New-York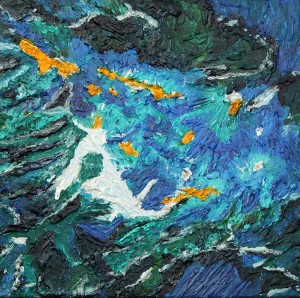 There is a strong rhythm and movement in Silvana Di Martino's paintings. Expressed in thick, full brushstrokes, this sense of kinetic energy carries us into the image, so that we are swept away by the intense, vibrant colors. Di Martino includes a variety of textures in her canvases, making her distinctive palette come alive. She says that many of her hues, especially the blues she employs, are influenced by the colors used by Renaissance painters. Referencing all the wonder of nature, from flowing lava to sun, wind and the lights of the Aurora Borealis, these works reflect both our own universe and a marvelous unknown world.
Perhaps the strongest influence in Di Martino's work comes from music. For much of her life she has been a concert pianist, and the musician's need to be in the moment finds expression in the freedom and spontaneity of her art. "I paint on the spur of the moment," she says, "never stopping my artwork till it is finished." That ability to combine a spur-of-the-moment feel with a precise eye for composition and color makes Di Martino's work unique.
New-York – novembre 2012